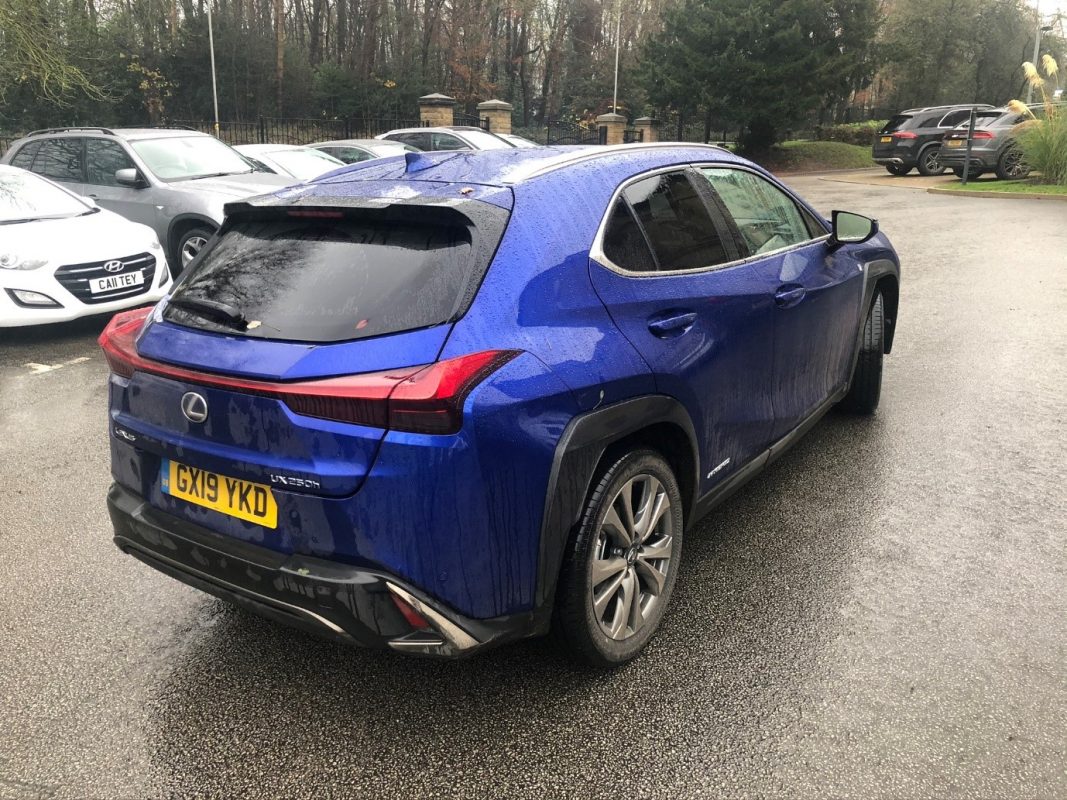 I found myself idly looking through used Lexus' last night. That's the kind of thing a few days in one of their products makes you do. Well, to me at least.
Toyota/Lexus have had an interesting twelve months. A brand that was very used to saying 'you can have one next week, in this, this or this colour', has turned into 'how does next April grab you?'. Five months…..
It will come as no surprise that this is a result of their steadfast policy of the petrol/electric hybrid (or mhev – mild hybrid electric vehicle). Toyota/Lexus prefer 'self-charging hybrid'. I can't say I'm sold on the phrase, there's enough confusion around lately, but essentially it isn't a PHEV (plug-in hybrid electric vehicle). The electric is a helper.
This leads me into the new Lexus UX, in some places described as an SUV, but for my money, a crossover.
The hybrid powertrain (There is not, and will not be, a diesel version) certainly helps lower BIK bills compared to diesel and the fuel consumption for me on a decent drive was getting on for 50 mpg. The difference between this 250h badged car and its close sibling, the Toyota C-HR, is the petrol engine is a 2.0 as opposed to a 1.8.
This makes a big difference. The car is more relaxed and less busy on motorways compared to the 1.8 based cars (Prius also). This also lessens the influence of the CVT gearbox on the soundtrack. This is a variable gear auto where the car uses a constant rev to pull through, rather than the rise-and-fall of a regular gearbox. This makes a noise that can be unusual and intrusive – not so much here.
Let's not mess about here, this car isn't massive. The boot is an odd shape if you remove the false floor (I did) and is smaller than a Focus' boot. However, it's not unusable. One point, the flexible parcel shelf can collapse and be stowed, but it does allow more road noise through than a regular shelf.
Having said this, I did fit two adults and three burly teenagers in the car and it wasn't an issue. It will pass as a family car, but do check one carefully if you're keen.
Lexus know how to build a car and little things that aren't obvious make a difference. The wipers are silent. No thudding at the top or bottom of the wiper stroke. The windows (in the front at least) are super quiet up and down, and slow down ever so slightly before stopping, so no thudding (again). The heated seats and steering wheel in the Takumi model, have an Auto setting. You never knew you needed it….
The infotainment system employed in the UX is Lexus' own. I was a bit brave jumping in the car at 5.20am and expecting the Live Traffic to be working with the navigation, helping me to get to the right spot in Birmingham without getting jammed. But it did. A Bluetooth connection (with an active Personal Hotspot) saw me right. I was pleased. The radio is still a faff though.
Cars supplied later in 2020 will gain Carplay and Android Auto. Similarly for Toyota, the C-HR will be available with the 2.0 hybrid setup in this car.
If you want something a bit different from the norm, that's not too harsh on BIK, is beautifully built and doesn't need to be huge – look at this car. Lexus dealers look after their customers very well, and the brand has always done fabulously in customer satisfaction surveys. You may be surprised.
Paul Titchmarsh – Director of Risk & Manufacturer Relations